6068 S Apopka-Vineland Rd.
Orlando, FL
(407) 876-0290
Dr. Anthony Oswick & Dr. Maria Kashlak
Family & Cosmetic Dentistry
Orlando · Dental · Comfort · Quality · Artistry · Testimonials


Posted by a Yahoo user on 02/23/2010
Dr Anthony F Oswick has been my dentist for 20 years. He has always delivered outstanding workmanship and stood behind my smile. Meticulous, detail oriented, superior quality are just a few words to describe the mastery work Dr. Oswick performs daily. He his one of a few true professionals. I HIGHLY RECOMMEND HIS SUPREME QUALITY WORK !
Post a Review of
Anthony F Oswick DMD

Posted by Yelp user Debbie V. on 4/20/2011
It was a Wednesday night, going home from work in July (I think) of 2011. My mother, who was 80 years old at the time, was in very serious pain. It had been a considerable amount of time since she had last seen a dentist for routine dental care. She is a heart patient, that suffers the fate of many patients like her, that of delayed or neglected dental attention. Because of their medications that cause them to be bleeders (sometimes profuse), most dentists will not touch these patients. At most, the patients can get their teeth pulled. Having to wait until the tooth is rotten before anyone will touch them is not healthy for the patient. So its a vicious cycle -- dental work causes them to bleed substantially - so dentist won't work on them. The lack of dental care aids in further heart health issues and dental issues. So here I am with my mother in substantial pain-- I was also new to Orlando, as was my mother and father. I called an emergency dental referral service, and sure enough, a dentist called me and said, "well, its 6:30. If you can come now, I'll take a look at her". He was brusque on the phone, but I felt I needed to get her to see him. We arrived to the building, all but his office locked up for the night, and we rolled (my mother is in a wheel chair) into his office.
Dr. Oswick looked at her and saw the condition of her mouth. It was indeed in terrible shape. All of us (including her) knew she need tremendous amount of care. He didn't do anything for her that night, but offered to see her in 3 days after she had been off her blood thinners for that time, and after he had talked or got the records from her heart doctor. We filled all that out and indeed returned in 3 days. Thus started a 10 month odyssey to pull the rotten teeth, to fill remaining teeth, and then to give her dentures. We have finished the process, and today my mother got her new tooth. Beautiful work.
Dr. Oswick is a skilled craftsman. As I am an engineer, I will relate him to my world in that he is a classic lab rat. In technical world, a lab rat is a person who has extraordinary skills in their craft, but lack social skills of the politicians, or the average "good ole boy". He is not the social butterfly.
But let me say this -- he is a master at working on your mouth. As many health problems that plagued my mother, he could have done what all the other dentists that she tried to see over the last 10 years. He could have punted and sent her on her way. He didn't. He saw someone in great need and proceeded to work his way through all her problems. My mother never suffered one round of infection from any of the dental work. Not once. That's incredible. She never suffered from pain from any of the dental work. Not once. That's incredible. And I will say, that in his own way, he was extraordinarily kind to her. And there was plenty of opportunity for him to give up as he had to deal with her bleeding issues.
I believe his desire to see previous records and speak to my mothers doctors was an effort on his part to know his risks and know what kinds of problems he might encounter. Its better to plan for success but prepare for problems. Again, this is a typical engineering approach to a problem. This is how a skilled craftsman approaches problems.
So if you have health issues, and you need dental work performed by a master craftsman, I would recommend Dr. Oswick. But don't look at him to be your best friend or to provide warm and fuzzies. The politician type of dentist does not take the time to learn his craft. The skilled craftsman is normally a shy and introverted technician--excellent with things, not people.
I go to a dentist to have the best care, at an affordable price. If this is what you are looking for, go see Dr. Oswick.
Debbie V.
Post a Review of
Anthony F Oswick DMD

Posted by a Manta user Chris E on 03/25/2012
Dr Oswick & Kashlak have been my family and friends dentist for over many years in Windermere. He has always taken care of our cleanings, pulls, fillings, braces, veneers and other services with no problems, ever... He has always treated us farily and has always been there for our emergencies with our kids and grandkids. I have always seen their office as the most friendly, and talented out there. I've even seen their excellent written customer Testimonials on their office wall. I would suggest calling their office or visiting them, as I would suggest for any Family Dentistry. Thanks for being our Family Dentist.
Post a Review of
Anthony F Oswick DMD

Posted by Kevin Barnett, Jr
I originally found Dr. Oswick because I had really bad tooth pain and needed a Dr that is available on weekends. Since I am usually out of town during the week this was perfect for me. I stayed with his office because I believe he does good work. I have had to visit many Dentists over the last few years because of traveling with my job and Dr. Oswick by far does the best crowns.
Post a Review of
Anthony F Oswick DMD

Posted by a Google user
Dr. Oswick is very passionate about quality denistry. No dentist has ever taken as much time as Dr. Oswick did to explain my dental situation and then explain my treatment options. His office is very clean and comfortable. I was not high pressured into buying optional services which was a breath of fresh air. I felt at ease with Dr. Oswick. I am highly recommending Dr. Oswick as a skilled dentist that is still passionate about his craft.
Anthony F Oswick DMD

Posted by a Insiderpages user
During my vacation with my grand-son at Disney, he needed an emergency tooth pull. Anthony Oswick was able to make an emergency appointment to take care of him. Within an hour, we were back on our way to Disney. Sincerely, Gerald N from New York.
Anthony F Oswick DMD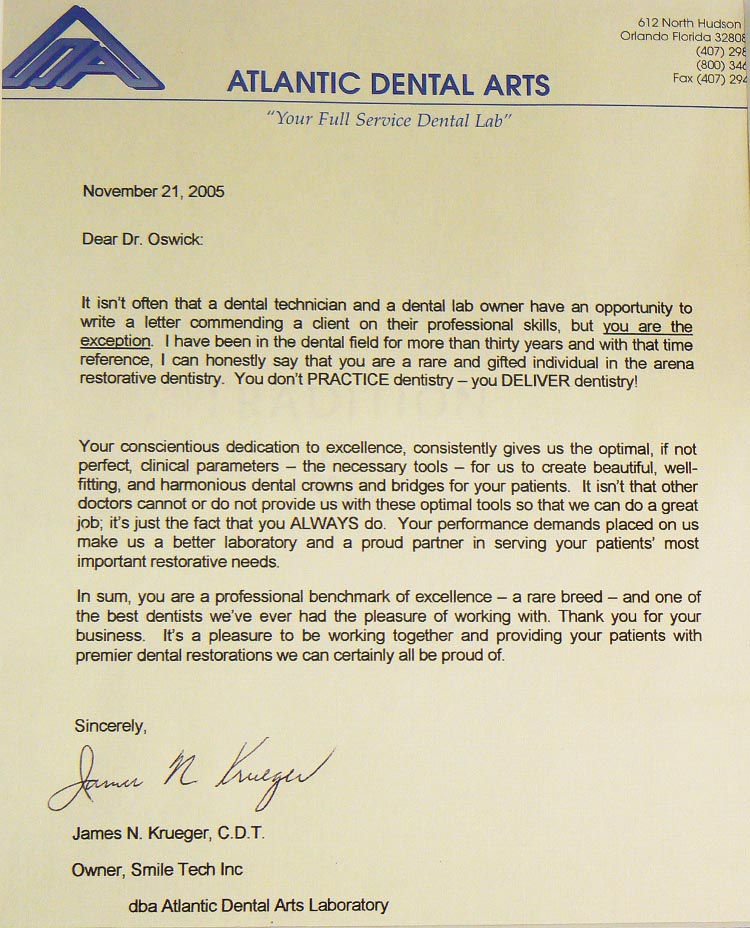 It isn't often that a dental technician and a dental lab owner have an opportunity to write a letter commending a client on their professional skills, but you are the exception. I have been in the dental field for more than thirty years and with that time reference, I can honestly say that you are a rare and gifted individual in the arena restorative dentistry. Yo don't PRACTICE dentistry - you DELIVER dentistry!

Your conscientious dedication to excellence, consistently gives us the optimal, if not perfect, clinical parameters - the necessary tools - for us to create beautiful, well-fitting, and harmonious dental crowns and bridges for your patients. It isn't that other doctors cannot or do not provide us with these optimal tools so that we can do a great job; it's just the fact that you ALWAYS do. Your performance demands placed on us make us a better laboratory and a proud partner in serving your patients' most important restorative needs.

In sum, you are a professional benchmark of excellence - a rare breed - and one of the best dentists we've ever had the pleasure of working with. Thank you for your business. It's a pleasure to be working together and providing your Orlando patients with premier dental restorations we can certainly all be proud of.

Sincerely,
James N. Krueger, C.D.T.
Owner, Smile Tech Inc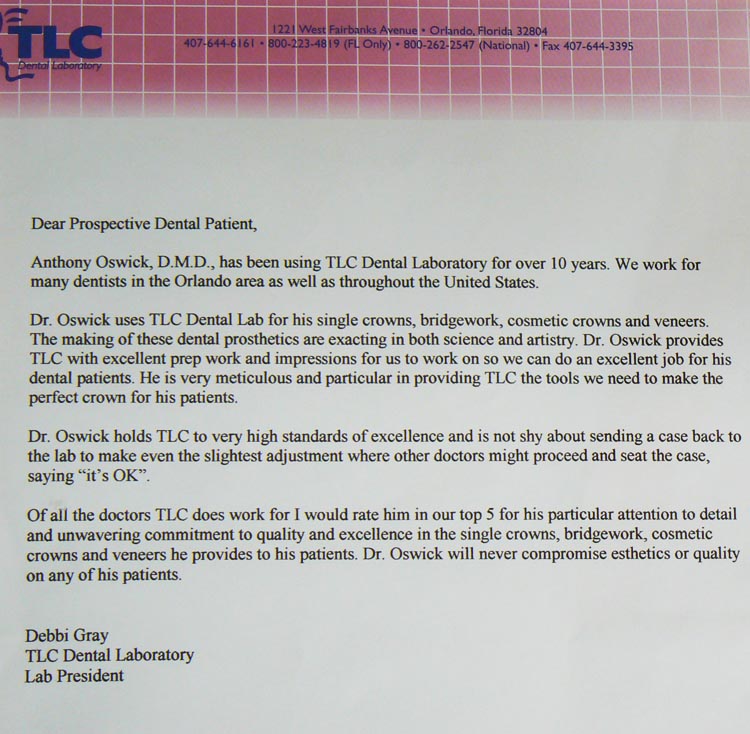 Dear Prospective Orlando Dental Patient,

Anthony Oswick, D.M.D. has been using TLC Dental Laboratory for over 10 years. We work for many dentists in the Orlando area as well as throughout the United States.

Dr. Oswick uses TLC Dental Lab for his bridgework, cosmetic and single crowns, and veneers. The making of these dental prosthetics are exacting in both science and artistry. Dr. Oswick provides us with excellent prep work and impressions for us to work on so we can do an excellent job for his dental patients. He is very meticulous and particular in providing us the tools we need to make the perfect crown for his patients.

Dr. Oswick holds us to very high standards of excellence and is not shy about sending a case back to the lab to make even the slightest adjustment where other doctors might proceed and seat the case, saying "it's OK."

Of all the doctors TLC does work for I would rate him in our top 5 for his particular attention to detail and unwavering commitment to quality and excellence in the single and cosmetic crowns, bridgework, and veneers he provides to his patients. Dr. Oswick will never compromise esthetics or quality.

Debbie Gray
TLC Dental Laboratory
Lab President
Home | Dentists | Teeth Whitening | Emergency Dental | Gallery | Dental Questions | Orlando Location | Contact |
Copyright © 2012 Oswick Kashlak DMD Family Dentistry. All Rights Reserved.